Delicatus Granite:
Origin: Brazil
Types of Delicatus Granite: White Delicatus or Delicatus White - this granite has a pure white (can even be almost blue in tinge) background with black mineral veins, making this a versatile choice for many designers. Delicatus Gold Granite, also called Persa Delicatus and Delicatus Supremo Granite has gold overtones with varying levels of  black, brown and ivory waves throughout. Juparana Delicatus Granite is known for the dramatic white background, black accents and a variety of veining colors and patterns ranging from tones of brown that can be caramel or even peach. Romano Delicatus is another name attributed to the Delicatus granite slabs with a light white/creamy background, gold and gray highlights with burgundy flecks.
As with most natural stones there is so much variety in granite - especially in Delicatus Granite, that each name represents a different variation. At Worldwide Granite and Marble our granite suppliers are continuously providing our customers with the most variations to provide the perfect countertop or other surface for your project.
Book-Matched Granite Slabs
Due to the unique variations of  Delicatus Granite, or any natural stone, book-matching slabs can allow for a continuous flow of the pattern over a large surface area. When slabs are book matched it means they are cut from the same stone and slab one and slab two will be cut and polished to create a mirror image of each other. This is ideal for large surface areas like a shower, wall or large bar top.
Delicatus Granite Recommended For:
Delicatus granite is most commonly used for countertops, backsplashes, walls, and flooring in homes, restaurants, bars and hotels. It is also recommended for outdoor uses as it is very resistant to stains, scratches and impact. 
Colors in Delicatus Granite:
Delicatus Granite is known for its variations and can contain a variety of colors from only bright white and black to creams, caramel, gray and flecks of burgundy. The overall appearance of your Delicatus Granite is dependent on what colors are found in the specific slab you have and can be fabricated with a polished, leathered or honed finish.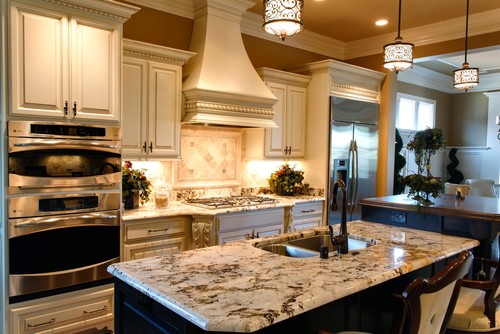 Each granite slab, or any natural stone, is unique in design, color combination and overall esthetic which makes it critical to visit your slab and personally choose which granite slice works best for your project. Contact us for availability, directions to choose your slab and next steps for us to fabricate and install your custom granite surface. Choose Worldwide Granite and Marble as your custom granite fabricator. With Worldwide Granite you get a local, family-run business, our personal attention, top of the line tooling for precision cutting and expert installation. Our turn-time is under 2 weeks from measuring for a template to installing in your business or home.