River Bordeaux Granite:
Origin: River Bordeaux granite, sometimes called Netuno Bordeaux, and Neptuno Bordeaux is quarried from a quarry located in Minas Gerais, Brazil. Once in Brazil the River Bordeaux and Netuno Bordeaux are technically different granite types because they come from two neighboring quarries. However, formed under the same conditions and with the same minerals, it is impossible to distinguish the difference without tracing the stone directly to its location of origin. Therefore, when you're buying the granite in the US, these two ae interchangeable - same colors and characteristics.
The Typhoon Bordeaux quarry is near the River Bordeaux quarry, and although they too have some of the same colors, they are easy to distinguish. Due to the qualities of the stone, the slabs are book-matched; meaning slab one and slab two will be cut and polished to create a mirror image of each other. These are then kept in sequence, which allows for a consistent flow in pattern. As with all natural stone product, it is sealed to extend its longevity.
River Bordeaux Recommended For:
Most granite experts would agree that River Bordeaux granite is recommended for commercial surfaces, residential surfaces (kitchen, bathroom, shelves, bar tops, outdoor kitchens, window sills, mantels, kitchen islands) interior floor, interior wall, fireplaces and showers.
Colors in River Bordeaux / Netuno Bordeaux Granite:
River Bordeaux Granite is characterized by strong diagonal rivers of cream, grey, and wine red or burgundy with black mica and quartz tumbled across the slab. Also called Netuno Bordeaux Granite, the slab can be fabricated with a polished, leathered or honed finish.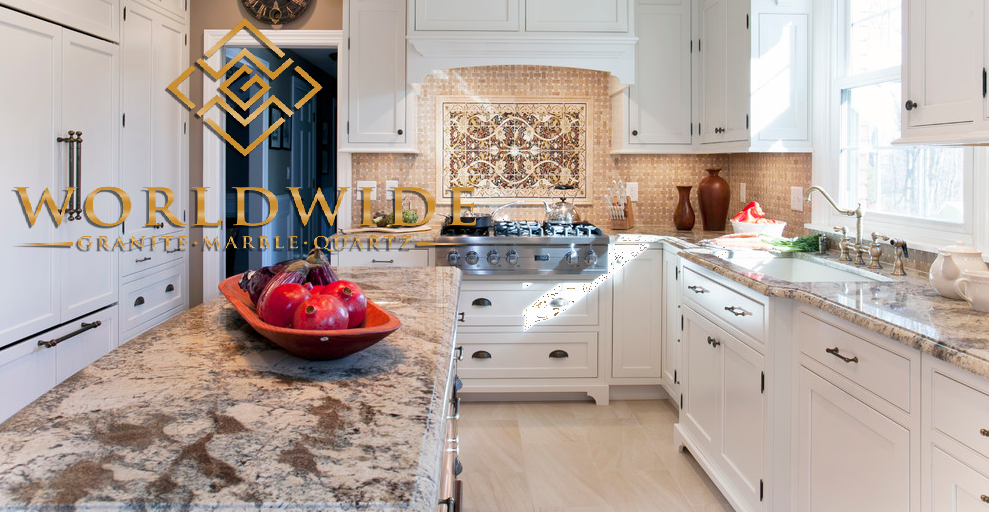 White Cabinets. River Bordeaux Granite.
Your Granite Fabricators of Cleveland: 10-Day Turn Time
Each granite slab, or any natural stone, is unique in design, color combination and overall esthetic which makes it critical to visit your slab and personally choose which granite slice works best for your project. Contact us for availability, directions to choose your slab and next steps for us to fabricate and install your custom granite surface. Choose Worldwide Granite and Marble as your custom granite fabricator. With Worldwide Granite you get a local, family-run business, our personal attention, top of the line tooling for precision cutting and expert installation. Our turn-time is under 2 weeks from measuring for a template to installing in your business or home.