Quartz countertop installations have become one of the most popular requests in our Cleveland area market. Many homeowners prefer the consistency of a manufactured, or engineered, stone, the low maintenance of quartz and the strength and durability quartz countertops guarantee. (Is Quartz the New Granite in Countertops?)
This family chose Peppercorn White Quartz from MSI, a leading nationwide distributor of flooring, wall, and countertop surfaces, with a location in Cleveland. Most quartz, granite, marble and other distributors of countertop surfaces, like MSI, do not sell slabs to the public. If you are interested in a particular product or specific slab, you work with us, your fabricator, for additional information. In this case, after measuring the space in their Avon home, the customer chose the sample from our collection of MSI quartz samples, we picked the slab up from MSI. Next we use our equipment to fabricated the quartz to fit the specifications in our system - the measurements for kitchen countertops, island, basement bar, basement countertops and the other areas in the home.
Quartz Fabricator Cleveland
In less than 10 days we had this Peppercorn White Quartz fabricated to fit their space and our expert countertop installation team was completing their vision.  If you are looking for a quartz fabricator in Cleveland that can make your vision come to life, get a free estimate. Our shop is in Cleveland, centrally located to enable our quartz fabricators to easily cover Cuyahoga, Lorain and Medina counties. This home was in Avon but we have fabricated quartz countertops from Sandusky to Geneva. If you want a reliable team to measure and template, fabricate, finish, customize and install your quartz countertops with precision, contact Worldwide Granite and Marble for a free quote.
Quartz Countertop Installation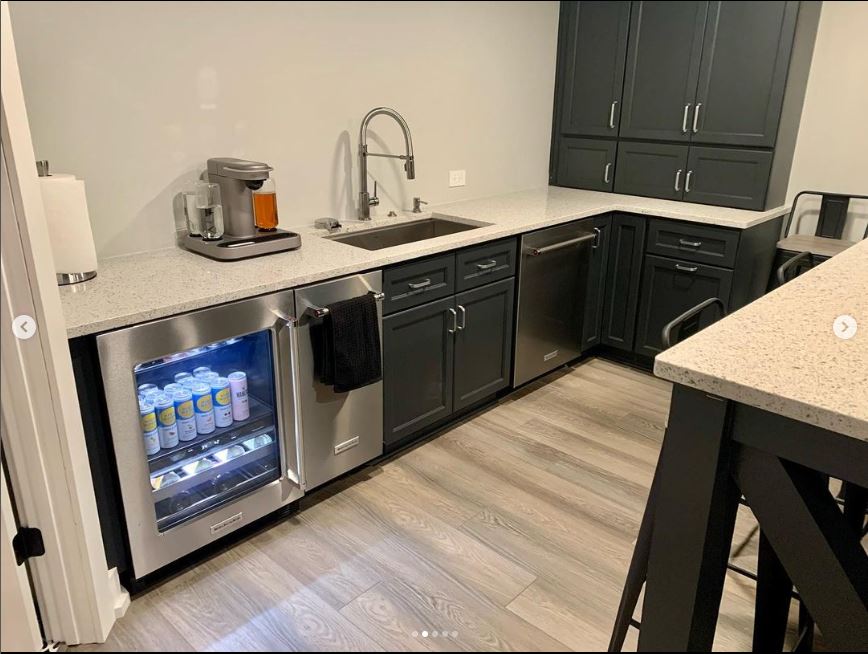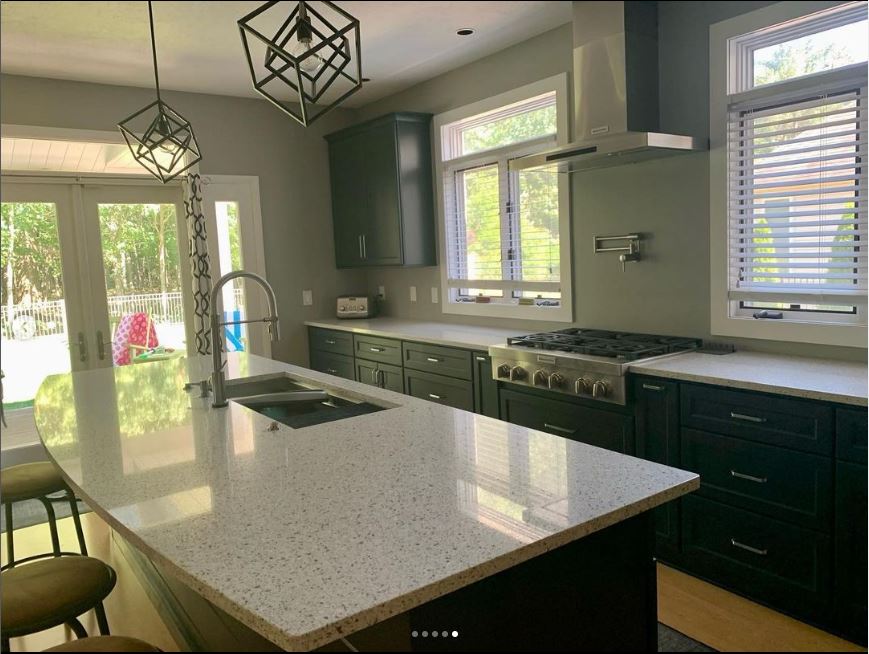 Peppercorn White Quartz throughout the kitchen deliver the style and consistency our client wanted throughout this home.
PEPPERCORN WHITE QUARTZ
From MSI: There's nothing quite like the allure of Peppercorn White Quartz. With its pebbled appearance, this wonderfully stylish quartz features soft whites and warm grays. Available in both 2 cm and 3 cm slabs, this neutral surface achieves a clean and contemporary look that is the very essence of chic. Craft stunning white quartz countertops, waterfall islands, backsplashes, floors, and accent walls in residential and commercial environments.
Quartz Countertop Installation in Avon