Delicatus Granite Countertop Installation in Lakewood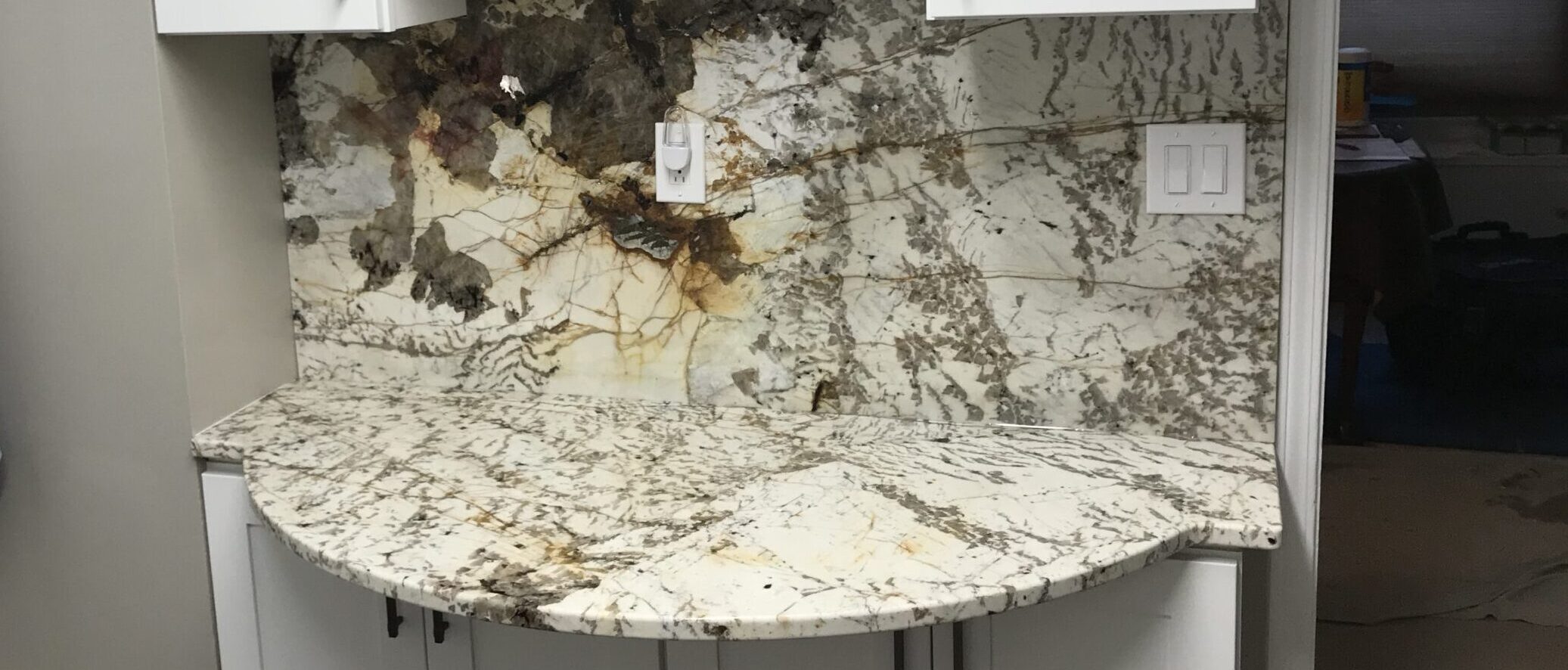 This Delicatus Granite looks elegant as a granite countertop and granite backsplash with white cabinets and a light grayish-taupe wall color.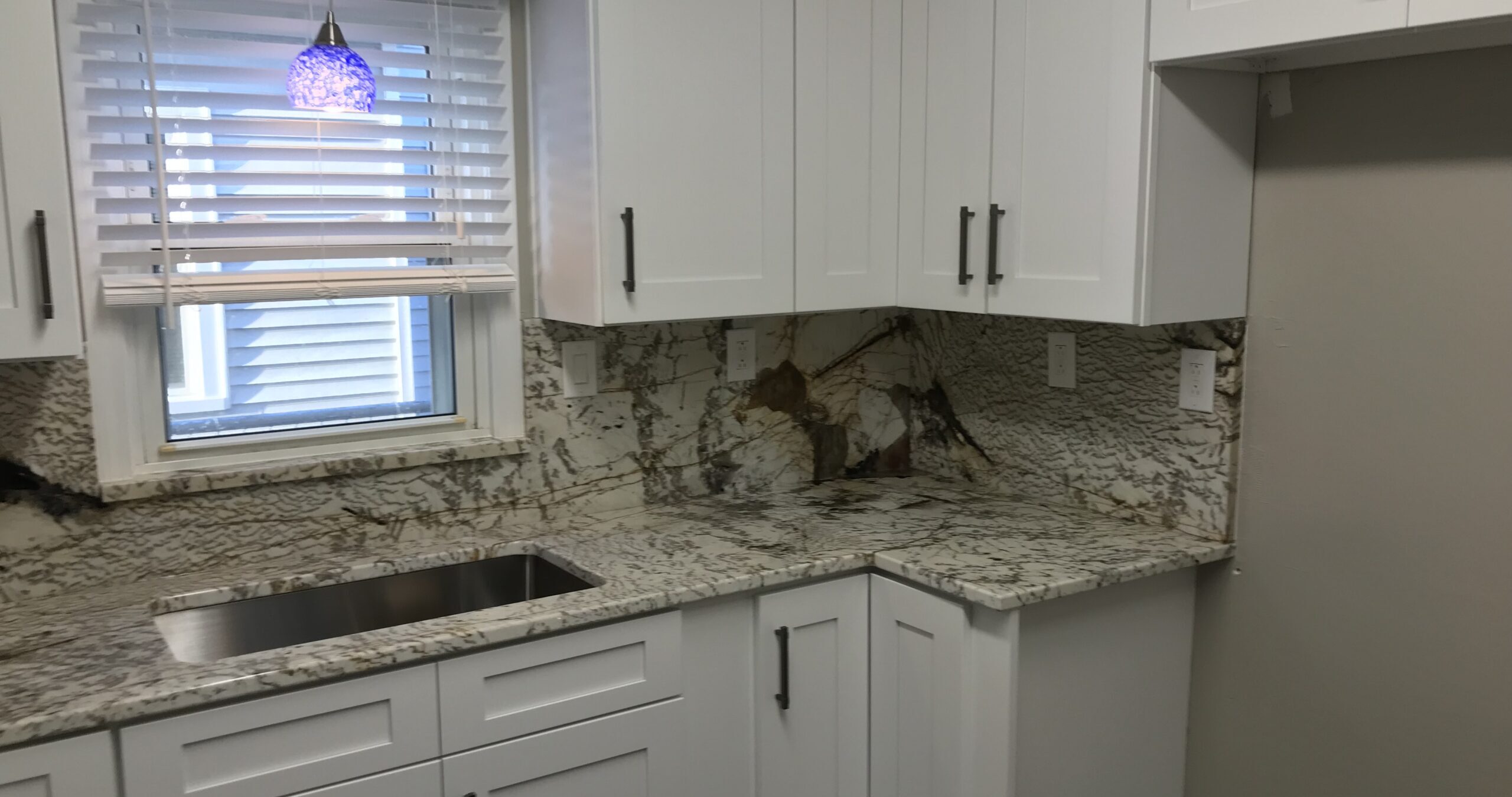 Delicatus granite
is available in several color variations. The granite slabs chosen for this Lakewood project were chosen for their majority creamy white primary color with large bursts of gray and gold with deep pockets of gray crystals.
Lakewood Kitchen with Delicatus Granite Countertops and Backsplash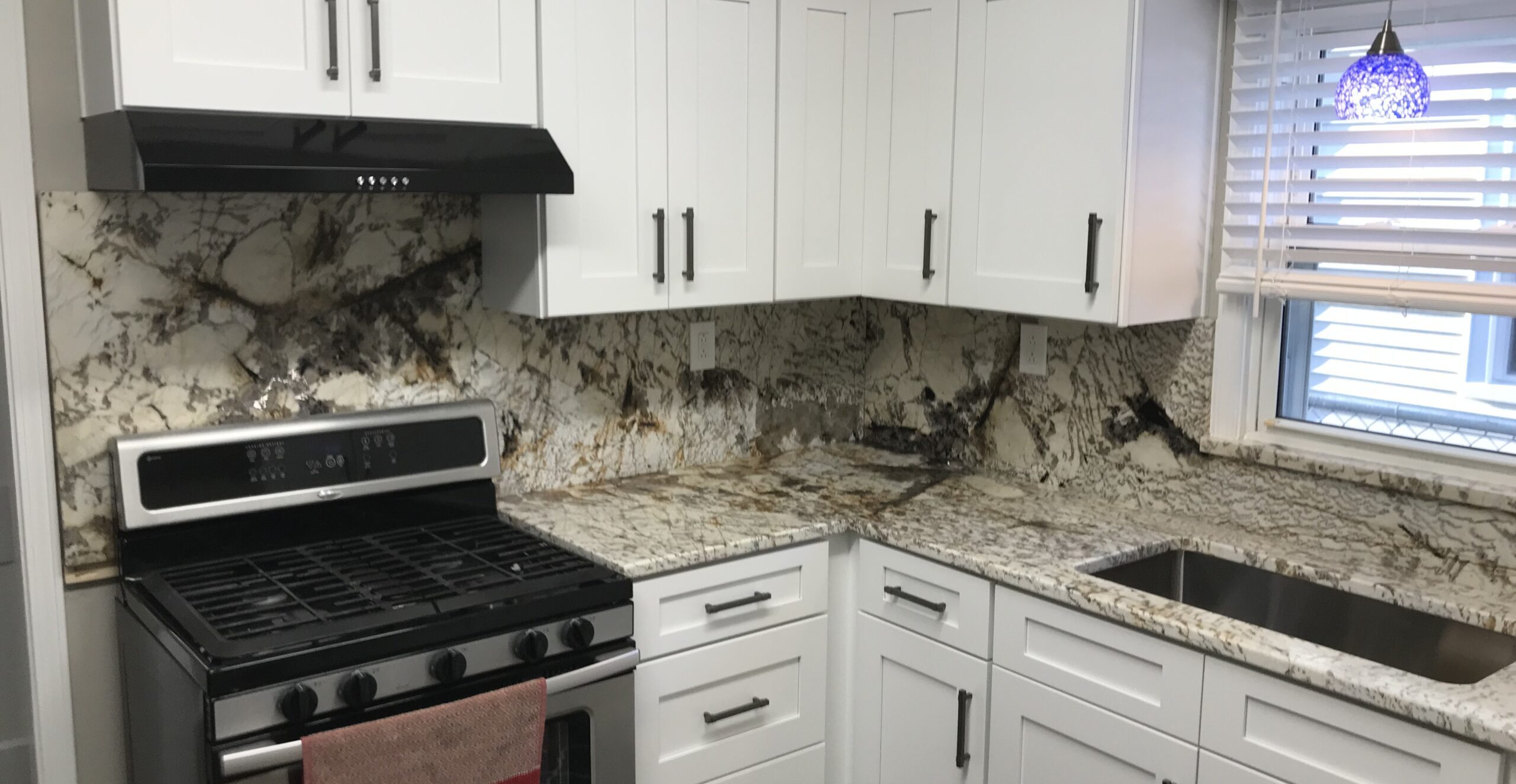 This delicatus granite countertops and backsplash in a smaller Lakewood kitchen make the space pop with gorgeous jewel-looking accents. Granite is a very hard surface that is fairly easy to maintain making it perfect for kitchen counters and backsplash.
This Delicatus Granite countertop installation in Lakewood was a fun job for our guys at Worldwide Granite and Marble of Cleveland. This Lakewood homeowner wanted to make a big impact with a smaller space so they chose a granite with bold color variations. They also wanted the same granite slab to be used as a countertop and a backsplash which adds a level of complexity to the installation. Matching up the areas of the granite slab that will make a natural fit where the Delicatus Granite countertop meets the backsplash.
Delicatus Granite, a stone from Brazil, comes in many variations and is sold by several names, depending on the mineral composition and color. Popular types of Delicatus Granite include Delicatus White Granite, Delicatus Supreme Granite, Delicatus Gold Granite, Delicatus Ice Granite, Delicatus Supreme Granite, Delicatus Cream Granite and Juparana Delicatus. The naming of your granite slab is usually done at the quarry, where they mine the granite and separate the raw material into the slabs that get sold to our granite suppliers. What type of Delicatus Granite will look best on your countertops and backsplash? Contact us and we can give you a free consultation, as well as check the inventories of all major granite suppliers in the Greater Cleveland area so you can look for yourself.
Granite Fabricator Cleveland
In less than 10 days we had this Delicatus Granite fabricated into several pieces to custom fit their countertop and backsplash project and our expert countertop installation team was completing this Lakewood home owner's vision. If you are looking for a granite fabricator in Cleveland that can make your vision come to life, get a free estimate. Our shop is in Cleveland, only minutes from Lakewood and centrally located so our granite fabricators easily cover Cuyahoga, Lorain and Medina counties. This home was in Lakewood but we have fabricated granite countertops from Sandusky to Geneva. If you want a reliable team to measure and template, fabricate, finish, customize and install your Delicatus Granite countertops with precision, contact Worldwide Granite and Marble for a free quote.
Cleveland Granite
As stone fabricators in Cleveland we will help you find the perfect slabs of granite for your countertop and backsplash project. Although we show examples of granite on our website and have granite samples in our showroom, there are thousands of types of natural stones and we can help you get anything you want. Get in contact with us and let us help steer you in the right direction to choose your slab, then we will pick it up and fabricate it, cut it, polish it, seal it, customize it to your project and then install your slab to your specifications.
Delicatus Granite Countertops in Lakewood