Granite is one of the most versatile and popular countertop materials on the market. While it is most commonly used in kitchens and bathrooms, granite can actually be used in a variety of ways throughout your home. Whether you're looking for a way to add a touch of luxury to your kitchen or you want to create an elegant fireplace mantel, granite can help you achieve your vision. A custom granite fabricator can create unique pieces that will add beauty, style, and function to your home. Here are a few unique and interesting ways you can use granite to elevate your home's style!
Adding a Touch of Elegance to Your Kitchen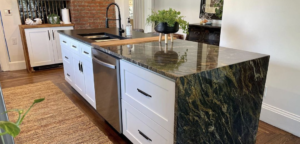 One of the most popular places to use granite is in the kitchen. Granite countertops are classic and luxurious, and add value to your home. They are also durable and easy to care for, making them a popular choice for busy families. Granite is heat resistant and can withstand the demands of cooking, so it's the perfect material for a food prep surface.
Kitchen islands are also a great place to incorporate granite because they are often the focal point of the room. Plus, you can use granite for the countertop, backsplash, and even the flooring of your kitchen island for a coordinated look.
Make a Statement with a Granite Fireplace Mantel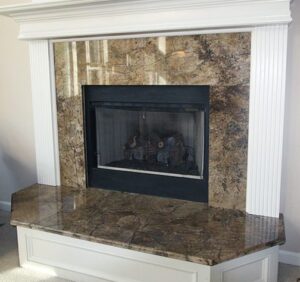 A fireplace mantel, or a fireplace surround, are two ideal places to showcase a piece of granite. Granite is a durable material that can withstand high temperatures, making it an ideal choice for a fireplace mantel. Here are a few tips on how to use granite on a fireplace mantel:
Choose the right granite – Select a granite pattern that compliments the overall design of your home.
Measure your mantel – Make sure to measure your mantel before ordering your granite. Once you purchase a slab of granite, have it cut to size by a skilled granite fabricator.
Install your granite – Have a professional install your granite to ensure it is done properly.
A granite mantel will easily make your fireplace the focal point of any room and can be customized to match any home's style.
Create a Focal Point in Your Bathroom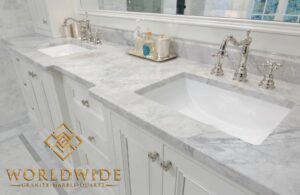 A granite countertop in your bathroom will create a stunning focal point. The countertop can be used to store toiletries, as a place to put a vase of flowers, or as a spot to display a collection of candles.
A bathroom vanity top made of granite can also add a touch of luxury and sophistication to your bathroom. Granite is a natural stone that is resistant to water, scratches, and stains, making it an ideal material for your bathroom vanity top.
Granite Shelves – The Perfect Combination of Style and Function!
Granite makes beautiful and durable shelves. To use granite as shelves, you will need to have it custom-made by a granite fabricator. You can use granite as shelves in a number of ways. Here are a few ideas:
Use granite slabs as floating shelves to create additional storage space in your home.
Use granite tiles to create shelves that match your backsplash.
Use granite as the shelf material for a recessed shelving unit.
Get creative and use granite as part of a shelving unit. For example, use granite as the base of a shelving unit or as shelf dividers.
Line Your Window Sills
Windowsills are a great place to add a touch of granite. Granite is a durable material that can withstand environmental elements, making it the perfect material for window sills. It is also easy to clean, so you won't have to worry about stains. Interior window sills lined with granite will add an element of style and luxury to your home. Plus, they will look elegant when used to display books, potted plants, knick-knacks, and other decorative items.
Granite can truly add a touch of luxury, beauty, and sophistication to your home. If you're looking for unique ways to use granite in your home, call Worldwide Granite and Marble of Cleveland, a skilled and reputable granite fabricator. Get started today and see how granite can transform your home!
5 Incredible Ways Granite Adds Style to Your Home